Who would have guessed?  Just an hour north of Lisbon, in the countryside, is a beautiful managed garden intended as "a place for reconciliation."  Buddha Eden is 35 hectares (86 acres) of natural fields, lakes, manicured gardens and Buddhist statuary.
--------------------------------------------------
--------------------------------------------------
The story of how the garden came into existence is both intriguing and endearing.  In 2001, wealthy Portuguese investor and art patron José Berardo was shocked by the Taliban government's destruction of the Giant Buddhas in Afghanistan.  In response to the demolition of these masterpieces of the late Gandhara period, Berardo initiated the Buddha Eden in an homage to the cultural and spiritual monuments.
Six tons of marble Buddhas and figures are installed throughout the garden.  Walkways, piers and gazebos provide access to areas for contemplation.  And additional feature of the gardens is a replication of the Terra Cotta Army from China.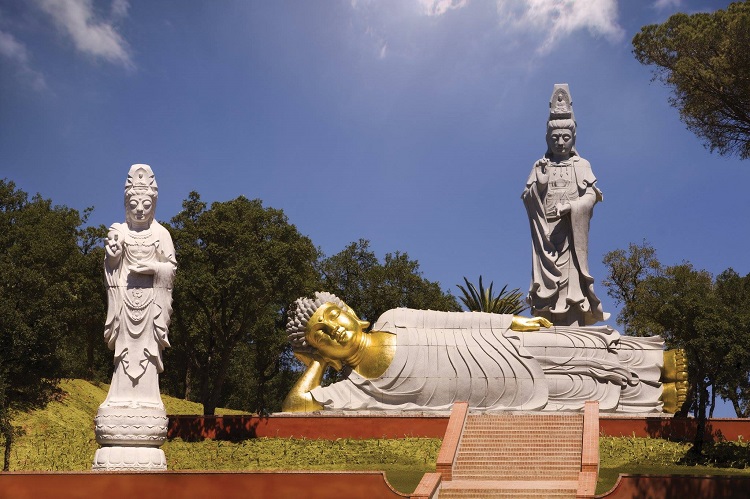 The non-profit Berardo Foundation manages the facility with the mission to create a space for all people regardless of religious affiliation, ethnicity, national origin, sex, age or social standing.  They call for unity, communication and meditation as a way to discover happiness.  And, perhaps in doing so, these actions counterbalance the destruction in Afghanistan, and instead, spread a culture of peace.

For more information, visit the Buddha Eden website.
Buddha Eden
Quinta dos Loridos
2540-480  Bombarral
Phone:  +351 262 605 240
Email: info@loridos.com
Admission:  €3.00 for the garden, €3.00 for the train Free
Photos courtesy of the Bacalhôa Buddha Eden Facebook page.