Bookstores can be wonderful havens for discovery, fantasy, education, entertainment, solitude and social networking. Floor-to-ceiling shelves filled with books on almost any subject a key ingredient. An eclectic atmosphere with spaces set aside for thought-provoking art, entertainment and discussion adds unique flavor. Throw in a cafe for quiet chats over coffee and you've got a near perfect environment to enjoy the printed word.
--------------------------------------------------
--------------------------------------------------
Such an expressive space exists in the Alcântara district of Lisbon. Ler Devagar (literally, "read slowly" in Portuguese) is a bookstore and more.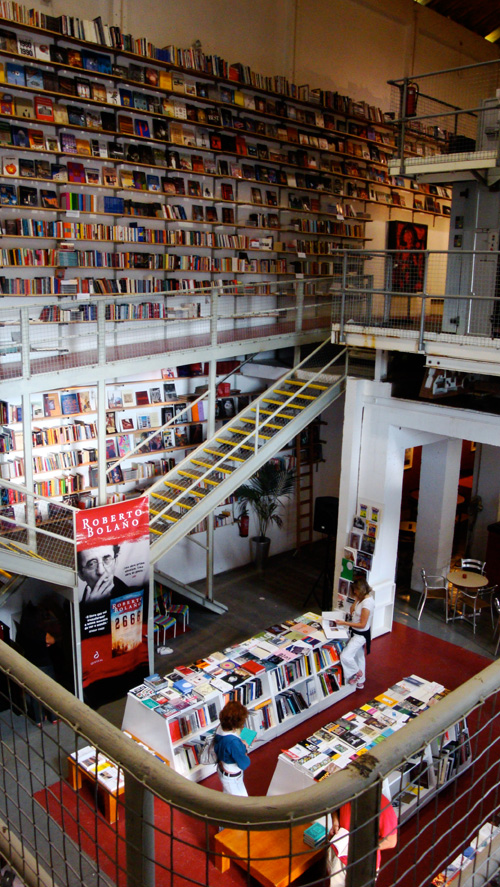 First, it is located in the LX Factory, a building built in 1864 to manufacture thread and fabric. The machinery has been moved out, and the large open factory spaces have become a mecca for the Lisbon creative sector. Advertising agencies, designer workshops and art galleries now fill the space. It is the ideal location for a bookstore hoping to expand the minds of its customers.
Ler Devagar stocks a large selection of books across two floors of space. Arts and culture are heavily represented here, as are books in many foreign languages. An art gallery is upstairs. There is also space for book readings and lectures. Cozy up to your new book with a cup of tea from the industrial bar.
It seems like there is always something going on too. Ler Devagar keeps a busy schedule of cultural activities that can take place in any location of the store. Concerts, plays, performance artists and art exhibitions add to the excitement of Ler Devagar, and keep you coming back time and again.
Also, every Sunday, Ler Devagar transforms into a market fair. From 11:00 to 19:00, kitsch antiques, comfort food, vintage clothing, urban crafts, plants and more are on sale from hand-selected venders. It's a great way to spend a Sunday afternoon.
For more information and to see the schedule of upcoming events, visit the Ler Devagar website.
Ler Devagar
Rua Rodrigues Faria, No. 103
Edificio G, Space 0.3
Alcantara
1300-501 Lisbon
Phone: +351 213 259 992
Email: livraria@lerdevagar.com
Hours:
Tuesday to Thursday – 12:00 to 24:00
Friday & Saturday – 12:00 to 02:00
Sunday – 15:00 to 22:00