Have some spare time and hungry in Porto? Get over to Mercado Bom Sucesso for a large assortment of food products, prepared cuisines, cooking workshops, and a glass of Portuguese wine. These tasty treats are served under a beautifully renovated mid-century modern building with vaulted ceiling and lots of natural light from an array of windows. Mercado Bom Sucesso is at Praça Bom Sucesso, No. 3.
--------------------------------------------------
--------------------------------------------------
Mercado Bom Sucesso was originally opened in 1952, with 10,000 sqm of space. The soaring modern design was by architects Fortunato Leal, Cunha Leal and Morais Soares. At that time, the market was a bustling center for commerce, but over the decades, with the growth of shopping malls and the city expanding outward, the market became less popular and ultimately closed.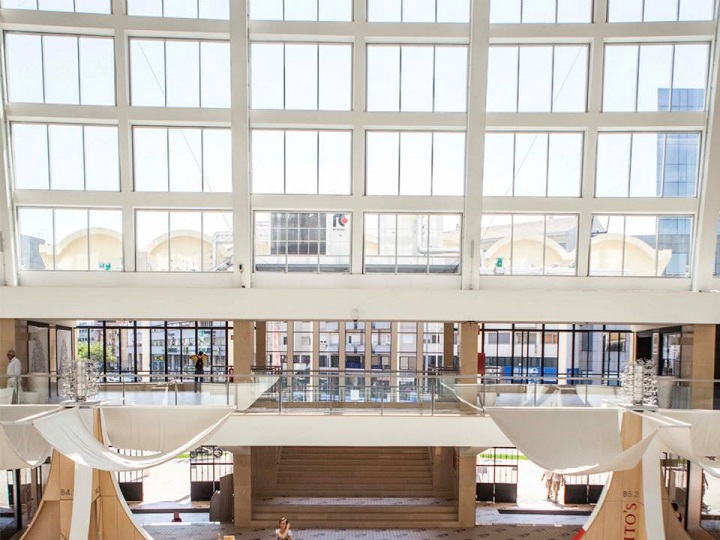 In 2011, the Mercado Bom Sucesss was given the distinction of "Building of Public Interest" by the Ministry of Culture and IGESPAR (the Institute for the Management of Architectural and Archaeological Heritage). The entire structure was renovated, inside and out, by FA.A Architects. The existing space was divided into a four-star hotel (Hotel Musica) and offices, and the commercial space for fresh produce and food service.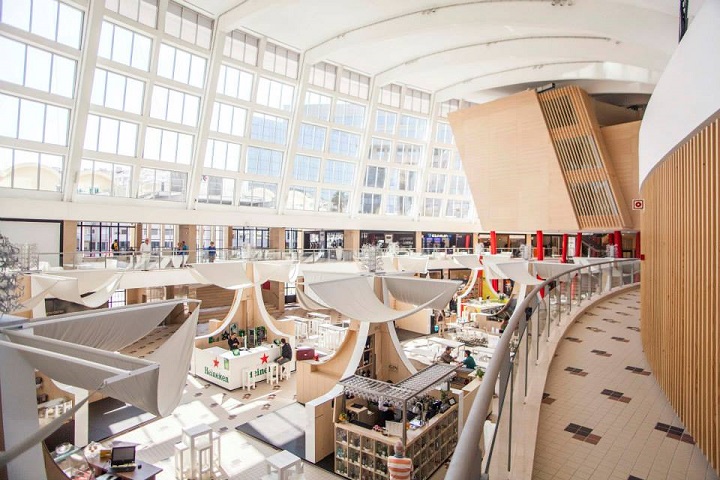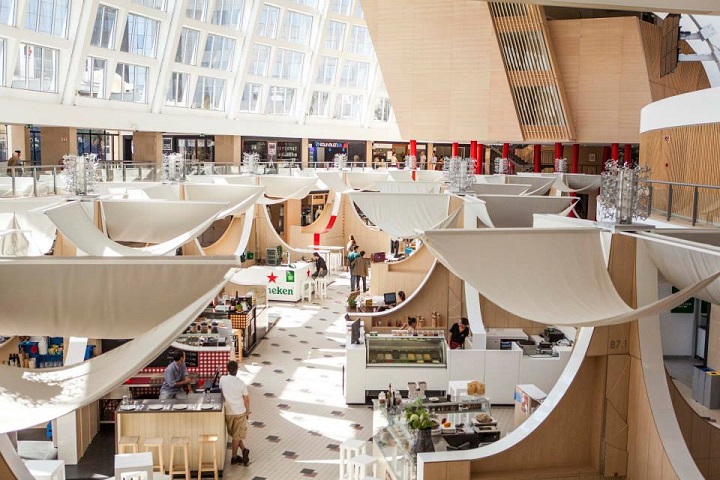 The Fresh Market offers vegetables, fruits, fish, meat, flowers, among many other products at affordable prices.
Additionally, there are 44 spaces serving gourmet, quick and tasty meals, perfect for lunch, afternoon snacks, early evening tapas or dinner. Most feature Portuguese food products and cuisines from different regions across the country, including cheeses and cakes, meats and juices….and of course, Portuguese wines. The food stands and shops include:
AR DE PORTUGAL ■ ART|E ■ BANCA DA MADEIRA ■ BUBBLES ■ CASA DE PASTO DE SANTO ANTÓNIO ■ CERVEJAS DO MUNDO ■ CHOCOLATE ROSA ■ CONFEITARIA MOURA ■ COPIPRESS ■ CREME FASHION STORE ■ CREMOSI ■ DEGUST'ART ■ EASY CICLE ■ EL TOMATE ■ EQUIVALENZA ■ FÁBRICA PAUPÉRIO ■ FORNO DE MERCADO ■ FÚRIA DAS FLORES ■ GIN SIGNATURE ■ GOSTO COM MEMÓRIA ■ HUMADECORAÇÃO ■ HYFRESH ■ INÉS PEREIRA ■ LEITARIA DA QUINTA DO PAÇO ■ LUDITE ■ MAISON GOURMET ■ MAKE NOTES ■ MAKE UP STORE ■ MARISCARIA BOM SUCESSO ■ MERCADINHO DO FEIJÃO ■ MERCATU ■ MIL E 1 CHÁS ■ NY SLIDERS ■ O LEITÃO DO ZÉ TRADIÇÃO DO PASTEL ■ O MELHOR RISSÓL DO MUNDO ■ PIADINA MIA ■ POM POM ■ PT EXPERIENCE ■ QUAY TRUE SUSHI ■ QUEIJOS E SABORES ■ QUINTA DAS LAMELAS ■ ROBERTO VERINO ■ ROTAS & DESTINOS ■ SABORES E TRADIÇÃO ■ TALHO BOM SUCESSO ■ TENDÊNCIAS À MESA ■ THE TRAVELLER CAFFE ■ URBAN TAB PORTO ■ VICAL MAR ■ VINOTECA
Tip! Monday to Fridays, Bom Sucesso Market has "Happy Hour" from 18:00 to 19:00. During this hour prices at the gourmet and fresh markets are reduced.
For more information, visit the Mercado Bom Sucesso website.
Praça Bom Sucesso, No. 3
Porto
Phone: +351 22 605 66 10
Email: info@mercadobomsucesso.com
Gourmet Market Hours:
Sunday to Thursday – 10:00 to 23:00
Friday & Saturday – 10:00 to 24:00
Fresh Market Hours:
Monday to Saturday – 9:00 to 20:00