Off the main road to Almancil, and down some dusty paths with only sign posts pointing the way, lies a very special restaurant in the central Algarve. Pequeno Mundo is a quaint transformed farmhouse, serving traditional French cuisine, in a very intimate setting.  Co-owners Chef Guy Goré and Host Joaquim Vilela delight guests with a romantic ambiance, attention to flavors and presentation, and formal and refined service.
--------------------------------------------------
--------------------------------------------------
The restaurant itself is the setting for the night ahead.  It is a beautifully renovated "quinta," with two separate rooms for dining, a cozy bar area, and a charming patio with a fountain at its center.  In the Summer diners can dine alfresco on the patio with nothing but the stars above.  In the Winter, sit by the fire and enjoy an aperitif.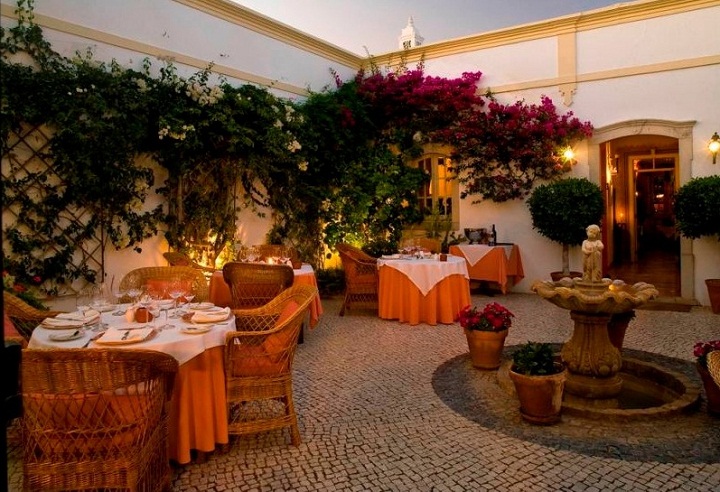 Chef Doré's passion is for traditional French recipes.  His Chateaubriand with béarnaise sauce is the house specialty.  Other favorites on from the menu include:  crispy pawns, mussel soup, sea bream fillets provençal, prawns with mango curry and veal filet with mushrooms and port wine.  Desserts are equally delectable with raspberry croustillant and (Portugal Confidential's personal favorite) chocolate fondant on vanilla custard.
There is a fine selection of wine to complement the meal, from Portugal and France, of course.  The wine cellar is also well stocked with Port, a a generous collection of fine whiskies.
Pequeno Mundo is a special place worthy of discovery…and many return visits with friends.
For more information, visit the Pequeno Mundo website.
Restaurante Pequeno Mundo
Caminho Pereiras
8135-907  Almancil
Algarve 
Phone:  +351 289 399 866
Email:  info@restaurantepequenomundo.com 
Hours:
Monday to Saturday – 19:00 to 22:00 (winter), 19:00 to 23:00 (summer)
Closed Sundays
Closed 28 November to 28 January