And the designers just keep on coming…. Donatella Versace opens a boutique at No. 238 on the luxury shopping street of Avenida da Liberdade in Lisbon. The 440 square meter shop spans across two floors, with women's collection downstairs and men's fashions up.
--------------------------------------------------
--------------------------------------------------
Most fashionistas remember that Gianni Versace launched the label in 1978. His sister, Donatella, took over the fashion house after the untimely death of Gianni in 1997. Donatella has grown the company considerably since that time, opening 200 Versace boutiques around the world.
The heritage of Italy and the glamor of the brand is apparent in the design of the shop. Byzantine mosaics emulating the floors of 9th century churches grace the floor. Marble is featured as a wall treatment for the stairway. Baroque bronze adorns lighting fixtures and cabinets. Otherwise, clean, white, undulating walls surround the space proving a contemporary ambiance for display of the high-end garments, leather goods and accessories.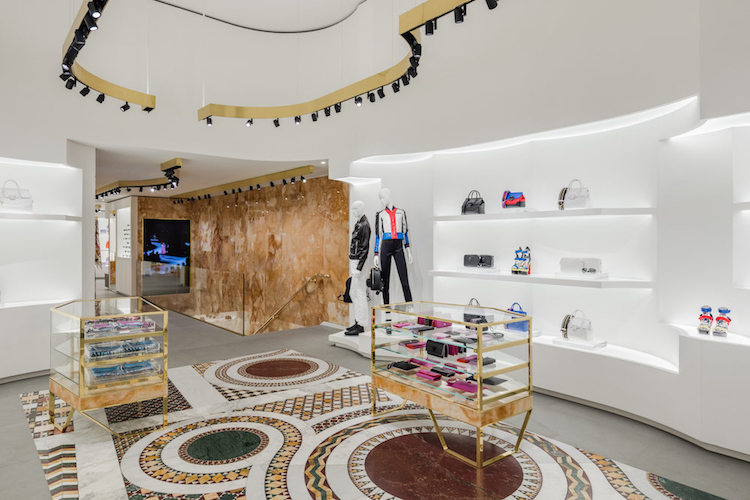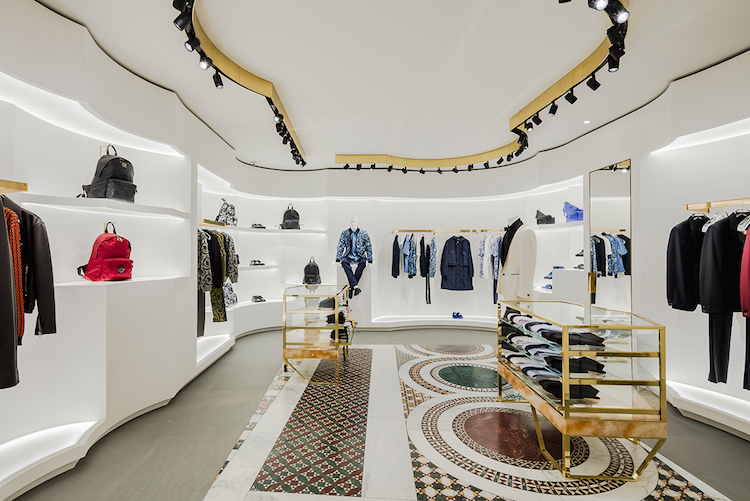 "I love the design concept of the Versace stores, which pays homage to the cultural heritage of Italy," says Dontella Versace. "To me, this store suggests an uninterrupted dialogue between the past and the future, between Versace and its customers.
Versace Lisboa
Avenida da Liberdade 238a
Lisbon
Phone: +351 211 975 099
Hours: Everyday – 10:30 to 19:30