In the Belém area of Lisbon, monuments to Portugal's proud history of navigation sit side by side with contemporary art museums and 21st century architecture. Also here, is the Altis Belém Hotel & Spa. Much like it's surrounding, the Altis Belém embraces contemporary design and celebrates Portugal's Golden Age of Discovery, while offering a extraordinary comfort and service.
--------------------------------------------------
--------------------------------------------------
Overlooking the Tagus River, the Altis Belém Hotel & Spa is distinct in its presentation. Ultra modern outside, rich and sophisticated inside. Each of the 45 rooms and five suites are uniquely designed featuring panels depicting journeys from Mauritania on the West coast of Africa, through Arabia, India, Siam, Osaka, and across to Brazil.
All rooms are large, with balconies. Choose views of the garden, river and Monument of Discoveries, or a Deluxe room with a Jacuzzi on the balcony and views of the harbor, Torre de Belém and Tagus estuary.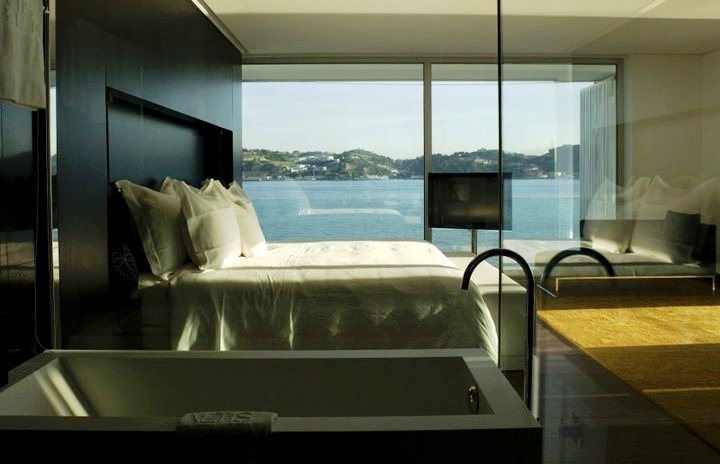 The five suites have 23m2 living rooms with panoramic views. Each have balcony with Jacuzzi.
All accommodations are fitted with HD LCD TV, Nespresso coffee machine, electronic safe, Internet access and wireless, mini-bar, marble and glass bathroom, and blackout blinds with electrically controlled shutters. For that extra special touch, the Altis Belém offers an a la carte pillow service, down feather duvets and Egyptian cotton and linen bed linens.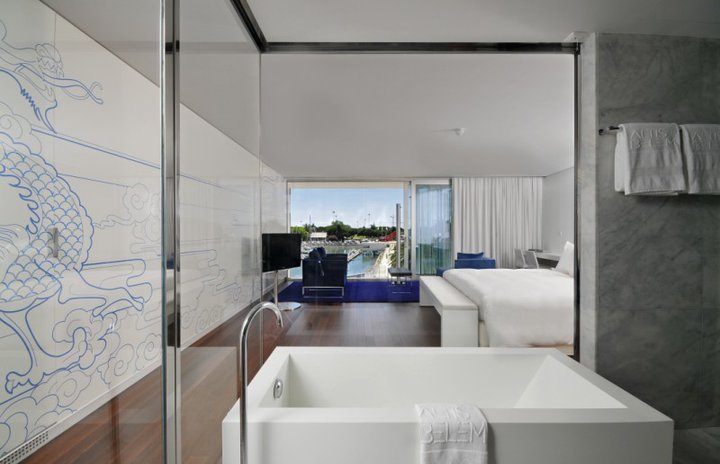 And what about gastronomy? The Altis Belém offers several unique and awesome options for meals, not the least of which is Restaurante Feitoria, which was awarded a Michelin Star in 2012.
The tres exclusive Feitoria features the signature cuisine of Chef José Cordeiro. Traditional Portuguese dishes are re-envisioned by Cordeiro using exotic world flavors and creative culinary inventiveness. For a very special treat, book 48 hours in advance for a very special signature Chef Cordeiro creation.
There are more delicious delights at the hotel too. The Oyster & Sushi Bar offers a wide selection of sushi nigiris, gunkan maki, sushi moriwase, tempuras, unagi eel and a selection of house-special makis not to mention the best and always fresh local oysters. The informal Cafeteria Mensagem quenches your appetite at breakfast and lunch. Unique to this dining spot is the Gourmet Snack Menu with a selection of fresh salads and sandwiches, including wraps, nachos, sandwiches, pork belly buns, and excellent traditional Portuguese side dishes and tapas.
For cocktails and nightlife, step into Bar 38°41′. Popular with locals as well as guests, this bar has become famous for its regular Sunset Sessions on Fridays with guest DJs and a vibrant trendy atmosphere. Oh, let's not forget an ever-present supply of drinks and supreme cocktails.
The spa experience must not be overlooked. The in-house Swiss-brand BSpa by Karin Herzog offers a heated indoor pool, sauna, Turkish bath, gym and Vichy shower rooms. Treatments and therapies are based in holistic concepts to improve and revitalize health, beauty and wellbeing. The spa sundeck is an excellent place to practice watsu (Shiatsu in the water), yoga, Pilates, tai-chi chuan and chi-kung.
Altis Belém Hotel & Spa won the 2012 Condé Nast Johansens Awards for Excellence in the category "Most Excellent Hotel Interior Design."  For more information and to make reservations, visit the Altis Belem website.
Altis Belém Hotel & SPA
Doca do Bom Sucesso
1400-038 Lisbon
Telephone: +351 210 400 200
Fax: +351 210 400 250
Email: reservations@altisbelemhotel.com